Why babies cry can vary widely, but hunger, fussiness, wetness and being uncomfortable or tired are all reasons he'll try to communicate with you by crying. And while some babies may cry more than others, they can eventually grow out of it.* So be patient, soon enough those tears will turn into smiles.
Why is my baby crying: The crying curve
Baby's crying can follow a developmental pattern during the first three months of life – this pattern is referred to by many healthcare professionals as "the crying curve"1,2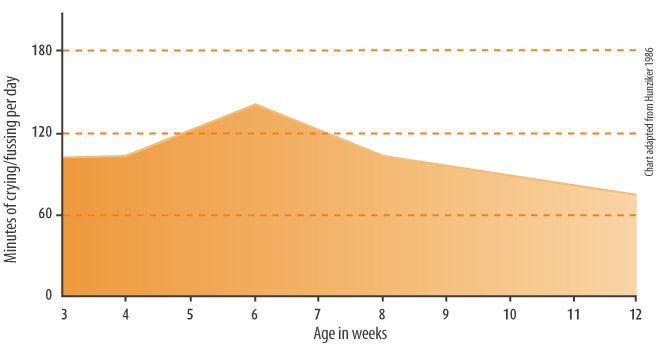 According to the crying curve, most babies' crying begins to increase from 2-3 weeks of age, peaks around 6-8 weeks of age and then begins to gradually decline as they approach 12 weeks of age.
Crying tends to occur more frequently in the evening, but can also occur throughout the day1,2,3.
* Speak to your doctor if your baby's crying is accompanied by fever, vomiting or diarrhea, if you feel there is a significant change in behaviour or could be due to an injury.
References:
1 Brazelton, TB. Crying in infancy. Pediatrics 29:579-588, 1962.

2 Hunziker, UA, Barr, RG. Increased carrying reduces infant crying: a randomized controlled trial. Pediatrics 77:641-648, 1986.

3 Sacks, D. ed. The Canadian Paediatric Society: Guide to Caring for Your Child from Birth to Age Five. Mississauga: John Wiley & Sons, Canada, 2009.
Join
Get full access to expert-backed nutrition support, high-value coupons on our trusted brands and much more!
Free Ready-for-Baby Savings Pack.

Around 35 weeks of pregnancy expect to receive our Baby Pack filled with high-value coupons and useful information you and your baby will love!

Special Member Savings

Receive personalized coupons and savings on trusted products in your email inbox - and home mailbox - as your baby grows.

Helpful resources

Expert advice, articles, recipes, tips and tools for all the special, hard and at times hectic days of parenting.

Nutritional guidance for growth

Specialized nutritional guidance and science-based expertise for every stage of the parenting journey - from preconception to toddlerhood.
*When registration is during pregnancy. If your baby's already been born, expect to see your kit within a month
Still haven't found what you are looking for?
Try our new smart question engine.