Nestlé Baby & me Club Benefits
Stronger Together
You've got Parentuition. We've got decades of science-based expertise to support you along the way. Together, it's a win-win.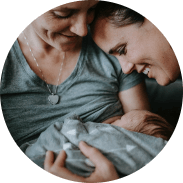 Every journey is unique
We've been there for millions of Canadian parents as they navigate the hectic, humbling and beautiful early years. We've got the articles, tips and tools to help you make decisions through the good, the bad and everything in between.
Parenting is personal
No matter your circumstances or preferences, we have a wide variety of resources, products and exclusive coupons to help ensure that you're supported in a way that is best for you and your baby.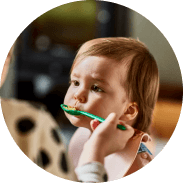 Start well and
stay well
To help nourish your growing family, we've got you covered from​ preconception to pregnancy, and your baby from infancy to toddlerhood with trusted brands like Nestlé® Materna®, Nestlé® Good Start® and Gerber®.
Join
Get full access to expert-backed nutrition support, high-value coupons on our trusted brands and much more!
Free Ready-for-Baby Savings Pack.

Around 35 weeks of pregnancy expect to receive our Baby Pack filled with high-value coupons and useful information you and your baby will love!

Special Member Savings

Receive personalized coupons and savings on trusted products in your email inbox - and home mailbox - as your baby grows.

Helpful resources

Expert advice, articles, recipes, tips and tools for all the special, hard and at times hectic days of parenting.

Nutritional guidance for growth

Specialized nutritional guidance and science-based expertise for every stage of the parenting journey - from preconception to toddlerhood.
*When registration is during pregnancy. If your baby's already been born, expect to see your kit within a month
Featured Articles
Here is a sampling of just some of the pregnancy and baby nutrition articles and expert tips we have for you. There are many more parenting and baby development tips, perspectives and articles so look around to find what is right for you and your baby.
Your instincts, our support​
Be part of Nestlé Baby & me and receive incredible benefits for you and your baby.​
When should I start taking a prenatal multivitamin?
A woman should start taking a prenatal multivitamin containing folic acid at least 10 - 12 weeks prior to conception - when she is trying to conceive or planning a pregnancy.
I'd love some Nestlé coupons, how can I get them?
It's easy! Just register for the Nestlé Baby & me and you'll receive savings, coupons, tips and more to support your pregnancy—right through to toddlerhood. It's why the best time to join is when you're still expecting. Plus, keep an eye out for coupon and discount offers in-store.
Is Nestle able to sell online and deliver directly to consumers?
We work with the online retailers in Canada including Amazon, PC Express and Walmart.ca.  They continue to stock Nestlé Good Start formula and Gerber baby foods, and their operations will allow them to serve families across the country.
Are all the coupons and savings in the Ready-For-Baby savings pack?
No, there's more! Your baby's journey is full of milestones, and we want to send you relevant offers to match. Watch your email inbox and mailbox after you sign up as we regularly send you savings on baby products that correspond to your baby's age and life stage.
There's no one right way to parent