GERBER® Supplements and Baby Food
Anything For Baby. 
GERBER was founded by a mom with incredibly high standards. So of course, she refused to accept anything but the very best for her baby. Which meant, "good for you" wasn't good enough. It had to be made with the best ingredients, from the most trusted sources. Period. And it had taste good enough to put an adorable smile on a tiny face.  
And that's still the way we do things. Because from the moment you hold that little peanut in your arms, you know there's nothing you wouldn't do to keep them happy and healthy. Maybe you didn't say it out loud, but you didn't have to; you'd do anything for your lil' bundle of joy, and so would we .
With you every step of the way.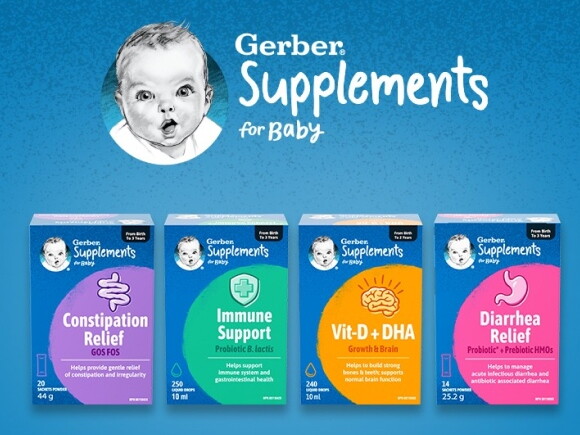 Gerber Supplements​
NEW range of GERBER® Supplements for Baby were designed to help keep little ones feeling their best and feeling amazed.​
Footnotes
*GERBER cereals contain probiotic B. lactis, Iron and Zinc which contribute to the normal function of your baby's immune system. Organic cereals do not contain probiotics
Still haven't found what you are looking for?
Try our new smart question engine.