1. Expect day-to-day changes
Every baby is unique and what is typical one day may be different the next. Babies will feed as often as they are hungry. There is no exact set number of times each day.
2. No need for a schedule
As a mom you will quickly learn your baby's signs of hunger, and these should be your cues as to when to feed. While feeding frequency may decrease as your baby gets older, he still may not feed to a schedule. Always feed your baby when he shows he's hungry and stop at signs he's full. During the first month, you should wake your baby for a feeding if it has been more than four hours since he last fed. In the following five months, feed only when baby shows signs of hunger.
3. Let your baby decide
Studies show that breastfed babies feed more often in their first few weeks of life. As they get older the number of feedings each day may decrease. In general, they will still consume about the same amount of breast milk each day, although in fewer feedings.
4. Trust your baby's instincts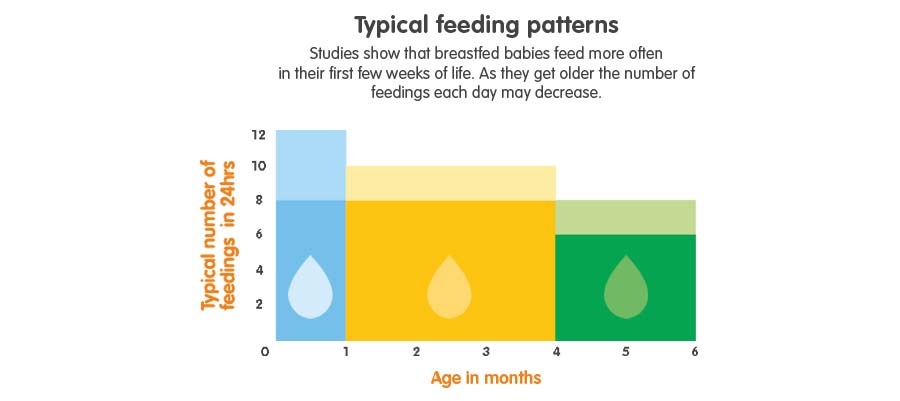 5. Avoid any pressure
If you are feeding expressed breast milk in a bottle, do not pressure your baby to finish the bottle. Remember, babies are designed to know how much they need to drink.
6. Start small
Start with the smallest bottle size and if your baby still seems hungry, add a little more to the bottle. This will reduce the chances of overfeeding your baby – and you'll waste less too!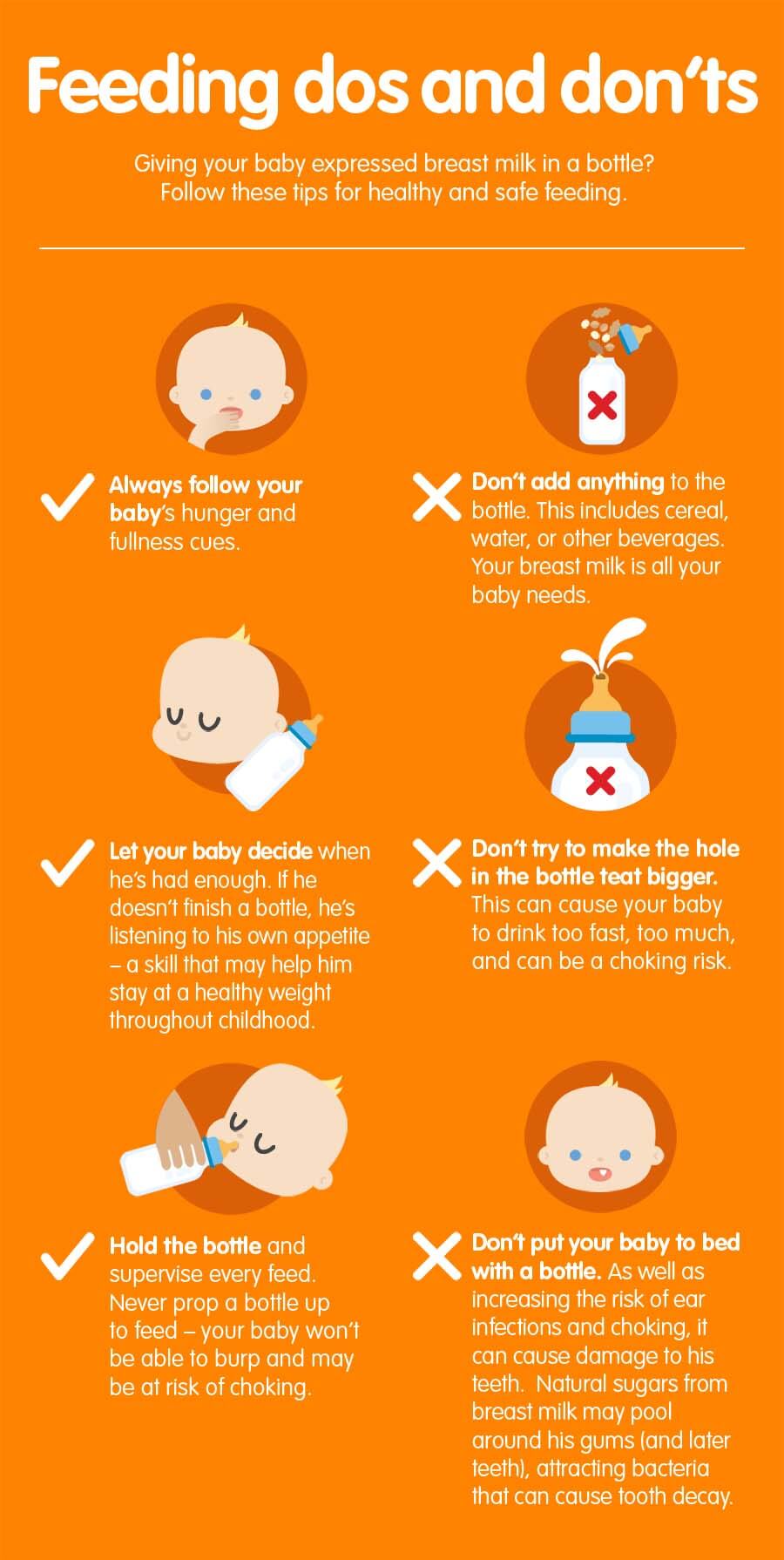 Sources
Kent JC, Hepworth AR, Sherriff JL et al. Longitudinal changes in breastfeeding patterns from 1 to 6 months of lactation. Breastfeeding Med 2013; 8(4):401-7. 

Kent JC, Mitoulas LR, Cregan MD et al. Volume and frequency of breastfeedings and fat content of breast milk throughout the day. Pediatrics 2006; 117(3): e387-95. 

Nielsen SB, Reilly JJ, Fewtrell MS et al. Adequacy of milk intake during exclusive breastfeeding: a longitudinal study. Pediatrics 2011; 128 (4):e907-14.

Reilly J, Ashworth S, Wells J. Metabolisable energy consumption in the exclusively breast-fed infant aged 3-6 months from the developed world: a systematic review. Br J Nutr 2005; 94(1):56-63.  

American Academy of Pediatrics Bright Futures 3rd edition 2011 
Join
Get full access to expert-backed nutrition support, high-value coupons on our trusted brands and much more!
Free Ready-for-Baby Savings Pack.

Around 35 weeks of pregnancy expect to receive our Baby Pack filled with high-value coupons and useful information you and your baby will love!

Special Member Savings

Receive personalized coupons and savings on trusted products in your email inbox - and home mailbox - as your baby grows.

Helpful resources

Expert advice, articles, recipes, tips and tools for all the special, hard and at times hectic days of parenting.

Nutritional guidance for growth

Specialized nutritional guidance and science-based expertise for every stage of the parenting journey - from preconception to toddlerhood.
*When registration is during pregnancy. If your baby's already been born, expect to see your kit within a month
Still haven't found what you are looking for?
Try our new smart question engine.