If you're allergic to any foods, you should continue to avoid eating them during pregnancy. However, some women without food allergies believe that eating certain foods (such as nuts) when they're pregnant can cause allergies in their babies. While research on this topic is ongoing, current recommendations do not indicate the need for dietary food restrictions for women without food allergy. Talk to your doctor if you are worried about your family history, or your baby's risk, of allergy.
If you are healthy and not suffering from food allergies, you can safely eat the following foods without worrying about increasing your baby's risk of developing allergies:
milk
eggs
fish
nuts
wheat.
Of course, there are some foods that all pregnant women should avoid eating, such as raw fish, raw meat, or unpasteurized cheese. This is because of the risk of bacteria or food poisoning and has nothing to do with allergies.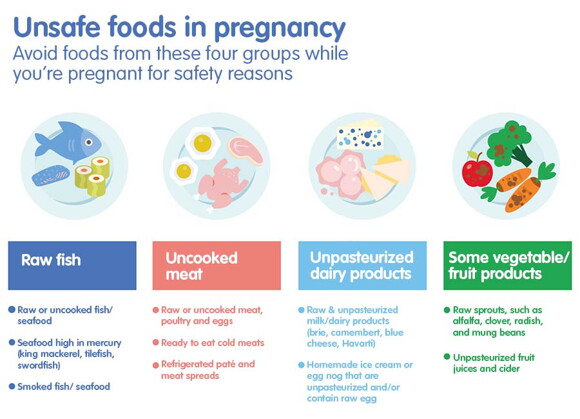 Sources
Health Canada. Food safety for pregnant women. Food safety for pregnant women - Canada.ca Published 2015. Accessed April 2021.

Bunyavanich S, Rifas-Shiman S, Platts-Mills T et al. Peanut, milk, and wheat intake during pregnancy is associated with reduced allergy and asthma in children. J Allergy Clin Immunol 2014; 133(5):1373-82.

Fleischer DM, Spergel JM, Assa'ad AH et al. Primary prevention of allergic disease through nutritional interventions. J Allergy Clin Immunol Pract 2013; 1:29-36.

Frazier AL, Camargo CA, Malspeis S et al. Prospective study of peripregnancy consumption of peanuts or tree nuts by mothers and the risk of peanut or tree nut allergy in their offspring. JAMA Pediatr 2014; 168(2):156-62.

Greer FR, Sicherer SH, Burks AW, and the Committee on Nutrition and Section on Allergy and Immunology. Effects of early nutritional interventions on the development of atopic disease in infants and children: the role of maternal dietary restriction, breastfeeding, timing of introduction of complementary foods, and hydrolyzed formulas. Pediatrics 2008; 121(1):183-91.
Join
Get full access to expert-backed nutrition support, high-value coupons on our trusted brands and much more!
Free Ready-for-Baby Savings Pack.

Around 35 weeks of pregnancy expect to receive our Baby Pack filled with high-value coupons and useful information you and your baby will love!

Special Member Savings

Receive personalized coupons and savings on trusted products in your email inbox - and home mailbox - as your baby grows.

Helpful resources

Expert advice, articles, recipes, tips and tools for all the special, hard and at times hectic days of parenting.

Nutritional guidance for growth

Specialized nutritional guidance and science-based expertise for every stage of the parenting journey - from preconception to toddlerhood.
*When registration is during pregnancy. If your baby's already been born, expect to see your kit within a month
Still haven't found what you are looking for?
Try our new smart question engine.