Many of your answers are right here, starting with what should be your main response when it comes to any of your thoughts on formula feeding: "I can handle this!"
First, a quick breakdown of three common formats of formula (or you can get a more in-depth look at formula formats here).
Ready-to-feed: Most convenient (Except no prep = more pricey)
Concentrated: Just needs to be diluted
Powder: Great value! (which means more mixing)
To ensure that you are giving your baby the right amount of nutrition, and to minimize the risk of bacterial contamination, it is essential to follow the label instructions, and prepare and refrigerate formula properly—the following can help everyone stay on the path to good health!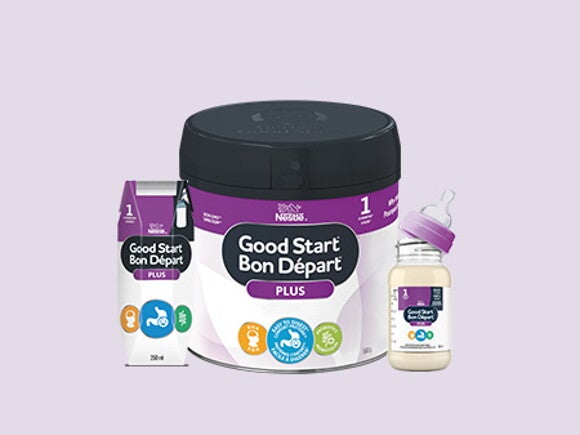 Good Start® Plus
Whenever you may decide it's time for formula, choose GOOD START PLUS. It's tummy friendly† and made with Comfort Proteins™, which helps promote softer poops.§,1
Before you begin
Dos
Carefully read the directions for preparation and use on the label so you can follow them accurately (your baby's health depends on it, after all). Even before that, ask your baby's doctor about infant formula, including how much to feed.
Wash your hands thoroughly before preparing infant formula.
Feed your baby immediately after preparing the bottle.
Always test the temperature of warmed formula before feeding (just use the inside of your wrist or the top of your hand).
Discard any remaining formula that your baby didn't eat (it's not safe to store).
Don'ts
Do not use formula from a package that may be damaged (e.g. dented, opened, leaking or bloated).
Do not use a microwave oven to warm formula (it can produce hot spots in the bottle that can burn your baby).
Again, for safety's sake, do not store any remaining formula that your baby didn't eat—discard it immediately.
How to prepare baby formula: Step-by-step*
First and foremost, always sterilize your bottles, nipples, rings and all preparation utensils by placing them in a pot with boiling water, boiling for 5 minutes, cleaning the area where you'll be prepping things and washing your hands.
Pour ready-to-feed formula directly into a sterilized bottle—do not mix with additional water!
Put the bottle in hot water until it is lukewarm (usually 1-2 minutes).
Cover the opened Tetra Pak™ carton with clear plastic food wrap and store it in the fridge—you must use the rest within 24 hours.
Note: This type of formula also comes in a ready-to-feed nurser. Just shake well, remove the cap, twist on a sterilized standard size nipple and ring, and you're all set!
Bring water to a rolling water for 2 minutes and let it cool to room or body temperature (37°C) before using.2
Shake the Tetra Pak™ carton well and wipe the top with a clean damp cloth before opening.
Pour equal amounts of measured-out formula and sterilized water into a sterilized bottle. Do not over or under dilute unless directed by a healthcare professional.
Cap the bottle and shake well.
Feed immediately. Throw out any unfinished formula within 1 hour after feeding.
Immediately cover and store the opened Tetra Pak™ with the remaining concentrate formula in the refrigerator to be used within 24 hours.
Bring water to a rolling boil for 2 minutes and let it cool to room or body temperature (37°C) before using.2
Pour measured, sterilized water into a sterilized bottle.
Add the appropriate number of scoops of powder, as directed on the label.
Cap the bottle and shake it well, until the powder is completely dissolved.
Note: Only prepare one bottle at a time.
Storing infant formula
While preparing and filling bottles in advance may seem like a good idea, preparing and then storing formula is not recommended. Following the manufacturer's label instructions is important for the health of your baby.
One safe way to save time? You can sterilize bottles and fill them with the appropriate amount of sterilized, cooled water ahead of time. If you choose to measure out the appropriate amount of water ahead of time, do not add the formula until feeding time. This will take a bite out of the preparation process once feeding time arrives.
Remember, your baby's health depends on you carefully following the directions for preparation and use on the label.
Important formula notes
Check the expiration date prior to using any formula.
Throw out any containers that have expired.
Never leave any unused prepared or opened liquid formula at room temperature for more than 1 hour.
Discard any formula remaining in the bottle after a feeding.
Cover and store any remaining ready-to-feed formula in the refrigerator for no more than 24 hours* (same goes for concentrated formula).
Once open, powdered formula will stay fresh up to one month and does not require refrigeration*.
Join
Get full access to expert-backed nutrition support, high-value coupons on our trusted brands and much more!
Free Ready-for-Baby Savings Pack.

Around 35 weeks of pregnancy expect to receive our Baby Pack filled with high-value coupons and useful information you and your baby will love!

Special Member Savings

Receive personalized coupons and savings on trusted products in your email inbox - and home mailbox - as your baby grows.

Helpful resources

Expert advice, articles, recipes, tips and tools for all the special, hard and at times hectic days of parenting.

Nutritional guidance for growth

Specialized nutritional guidance and science-based expertise for every stage of the parenting journey - from preconception to toddlerhood.
*When registration is during pregnancy. If your baby's already been born, expect to see your kit within a month
Still haven't found what you are looking for?
Try our new smart question engine.