What is diarrhea?
Diarrhea is common in babies and children and is usually mild. They will have loose or watery stools, usually at least three times in a 24-hour period. It is the consistency of the stools that is more important rather than the number of stools per day.1 Diarrhea is most commonly caused by a virus and is commonly spread through from person to person – or child to child - because of poor hygiene. Your child may also have other symptoms such as a fever, loss of appetite, vomiting, a tummy ache, and blood and/or mucus in their stools.1  
Diarrhea must be properly managed to so that fluids are replaced, and dehydration is prevented. Call your doctor if your child has any signs of dehydration such as decreased urination, increased thirst, absence of teers, or faster heartbeat.1 
Diarrheal diseases may be due to a virus, bacteria, or parasite. Rotavirus infection is the most frequent cause of diarrhea.4 It is commonly spread through contaminated food or drinking water, or from person to person because of poor hygiene. 
Diagnostic tests are not routinely recommended. However, laboratory tests may be requested by your doctor in cases of outbreaks in childcare centers, if there is presence of bloody stools, and/or if your child is immunocompromised or has a chronic health condition.1 
Probiotics and diarrhea
Probiotics are live microorganisms that confer a health benefit on the host when given in adequate amounts.2 Several probiotic strains have been found to aid in managing the episodes of diarrhea in children. Studies show that a probiotic called Lacticaseibacillus rhamnosus GG helps to prevent and manage certain types of diarrhea in infants and children..3 
Role of oral rehydration solution (ORS) in diarrhea
The standard management of diarrhea includes giving oral rehydration solution. These solutions are available at most pharmacies and can be used to keep your child hydrated and replace water and electrolytes when they have frequent diarrhea.  Avoid giving your child sugary drinks, like juice or pop, and salty liquids, like broth. These liquids don't have the right amount of water, sugar, or electrolytes and can worsen diarrhea.1 Talk to your doctor if you have concerns about keeping your little one hydrated.
Learn about Gerber® Supplements for baby's diarrhea relief: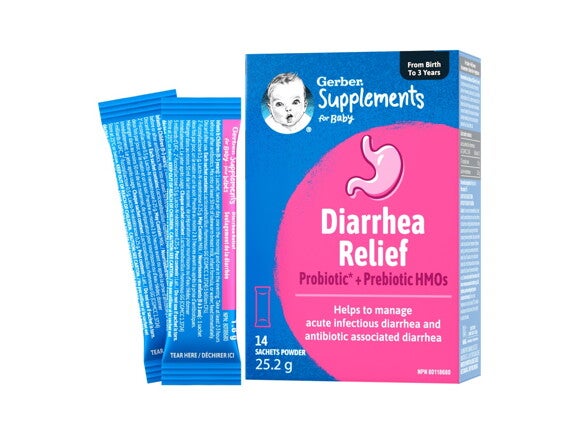 0+ Months
Product
GERBER Supplements for Baby, Diarrhea Relief Powder Sachets
Help relieve infant diarrhea with Gerber® Supplements for Baby Diarrhea Relief – a probiotic and prebiotic supplement that helps manage acute infectious diarrhea and antibiotic-associated diarrhea in babies and toddlers.
From birth to 3 years
Join
Get full access to expert-backed nutrition support, high-value coupons on our trusted brands and much more!
Free Ready-for-Baby Savings Pack.

Around 35 weeks of pregnancy expect to receive our Baby Pack filled with high-value coupons and useful information you and your baby will love!

Special Member Savings

Receive personalized coupons and savings on trusted products in your email inbox - and home mailbox - as your baby grows.

Helpful resources

Expert advice, articles, recipes, tips and tools for all the special, hard and at times hectic days of parenting.

Nutritional guidance for growth

Specialized nutritional guidance and science-based expertise for every stage of the parenting journey - from preconception to toddlerhood.
*When registration is during pregnancy. If your baby's already been born, expect to see your kit within a month
Still haven't found what you are looking for?
Try our new smart question engine.