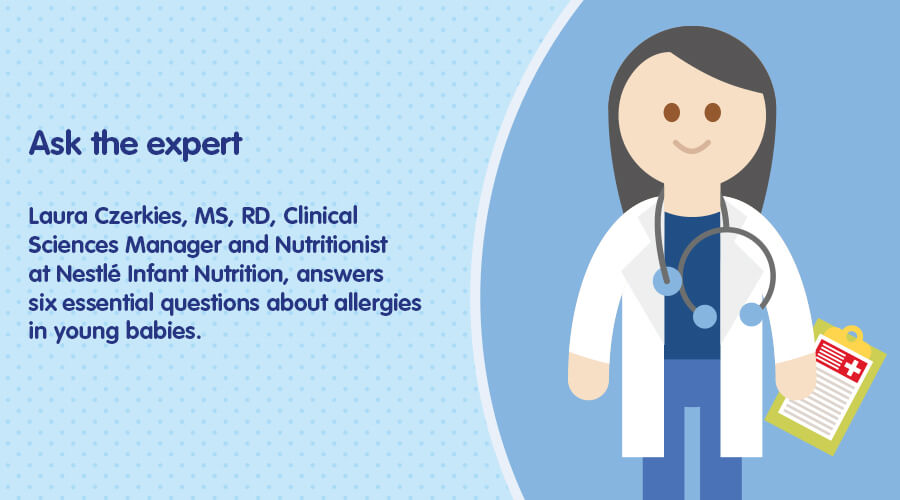 1. What causes babies or children to develop allergies? 
The causes of allergies aren't completely clear, but children are more likely to develop an allergy if there's a history of it in the family. Children with one allergic parent have a 20-40% risk of allergies. If both parents have an allergy, the risk goes up to 40-60%. However, your baby can still develop an allergy even if there is no family history of it. 
2. I know there is a family history of allergies - what should I do?
Talk to your healthcare provider if you have any concerns about your family history of allergy.
3. What are the symptoms of an allergy to cow's milk protein?
The signs of an allergy to cow's milk protein vary, but the most frequent include eczema, vomiting, and diarrhea. Talk to your healthcare provider if you suspect your baby may have cow's milk protein allergy.
4. Will avoiding milk or foods containing cow's milk help ensure my baby doesn't develop an allergy to it?
Some women believe that they should avoid certain foods while breastfeeding to decrease the chances of their baby having a reaction. In fact, it is not recommended that you restrict your diet or avoid allergens while breastfeeding. Current recommendations for breastfeeding women are to eat a variety of healthy foods each day, including vegetables and fruits, whole grain foods, and protein foods.
5. How can I try and avoid my baby developing an allergy?
You can help cut your baby's risk of the cow's milk protein allergy by breastfeeding. Exclusive breastfeeding for the first six months is advised for all babies, and may reduce the risk of cow's milk protein allergy.
6. I have allergies so my baby might be at high risk—what else can I do?
Research suggests that some probiotics may be effective in reducing the risk of your baby developing eczema. Your baby may benefit if you take specific probiotic supplements because they'll receive them from your breast milk. Discuss with your healthcare provider to see if probiotics might be suitable for you.
Join
Get full access to expert-backed nutrition support, high-value coupons on our trusted brands and much more!
Free Ready-for-Baby Savings Pack.

Around 35 weeks of pregnancy expect to receive our Baby Pack filled with high-value coupons and useful information you and your baby will love!

Special Member Savings

Receive personalized coupons and savings on trusted products in your email inbox - and home mailbox - as your baby grows.

Helpful resources

Expert advice, articles, recipes, tips and tools for all the special, hard and at times hectic days of parenting.

Nutritional guidance for growth

Specialized nutritional guidance and science-based expertise for every stage of the parenting journey - from preconception to toddlerhood.
*When registration is during pregnancy. If your baby's already been born, expect to see your kit within a month
Still haven't found what you are looking for?
Try our new smart question engine.