Constipation in Toddlers
Your toddler may poo once a day or once every few days. How often and how many bowel movements varies from child to child. Signs and symptoms of constipation in your toddler: 
Hard, pebble-like poo;
Poo is painful to pass;
Poo is less frequent than usual;
Unusually large poo for your child;
Your toddler may be irritable, refuses food and complains of a sore stomach;
Blood on the surface of a hard poo 
Talk to your doctor if you are concerned about your toddler's bowel habits or constipation.  
Possible causes of constipation:
Lack of physical activity 
A low-fibre diet that doesn't include enough whole grains, fruits, and vegetables 
Excessive amounts of cow's milk, juice, or other dairy products and not enough solid food can result in less fibre in the diet 
Holding poo in for long periods. They may be afraid to use the toilet if at any time it has been uncomfortable or unpleasant for them to poo 
Poor water and fluid consumption
How to help alleviate constipation:
Offer your toddler foods that are high in fibre and a healthy balanced diet, full of whole grain cereals, fresh fruit, vegetables, and legumes
Encourage daily physical activity and play 
Encourage a regular toilet routine and don't rush toilet learning 
Ensure they are getting plenty of water over the day 
Consider a kids supplement that contains prebiotics, like GOS and FOS. These are dietary fibres that stimulate the growth of healthy bacteria in the gut and provide gentle relief of constipation and irregularity. 
Talk to your doctor if your toddler's poo doesn't stay soft and regular, or if you have any other concerns about their bowel habits.  
Learn about Gerber® Supplements for baby's constipation: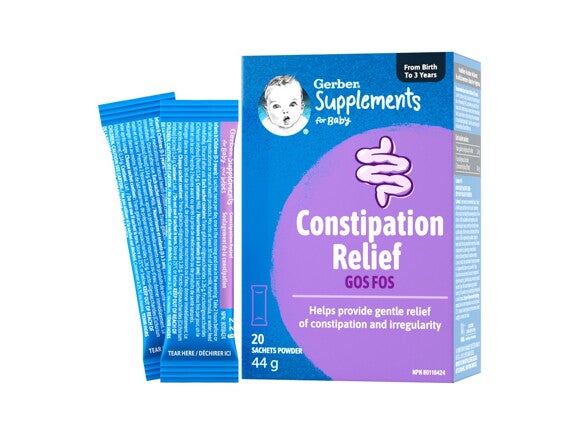 0+ Months
Product
GERBER Supplements, ​Constipation Relief Powder Sachets
Our new line of Gerber® Supplements for Baby features Constipation Relief, formulated just for little ones. This supplement features prebiotics to help gently relieve constipation and irregularity and support digestive health for babies.
From birth to 3 years
Join
Get full access to expert-backed nutrition support, high-value coupons on our trusted brands and much more!
Free Ready-for-Baby Savings Pack.

Around 35 weeks of pregnancy expect to receive our Baby Pack filled with high-value coupons and useful information you and your baby will love!

Special Member Savings

Receive personalized coupons and savings on trusted products in your email inbox - and home mailbox - as your baby grows.

Helpful resources

Expert advice, articles, recipes, tips and tools for all the special, hard and at times hectic days of parenting.

Nutritional guidance for growth

Specialized nutritional guidance and science-based expertise for every stage of the parenting journey - from preconception to toddlerhood.
*When registration is during pregnancy. If your baby's already been born, expect to see your kit within a month
Still haven't found what you are looking for?
Try our new smart question engine.