Be a role model
Being active regularly is important for your toddler's health. Physical play keeps growing bodies busy and little brains challenged. Continue to be a good role model by being as active as possible yourself. Let them see you walking, dancing, and getting involved at the playground rather than sitting on the couch, watching television, or staring at your cell phone. Remember that they will want to do what they see you doing.
Mix up the games
Some games will help develop their fine motor skills because they use the small muscles in their body, such as those found in fingers. Activities such as dancing, jumping, and racing to pick up their favourite toy involve their entire body so will help develop their gross motor skills.
Include both structured and unstructured playtime every day. One way to meet their need for structured play is to be active together outside, where there is plenty of space to move around. If the weather permits, you could go to the local playground, take a walk through the park or visit a nature center. Here are five more ideas for fun games to play together so you can meet the target of one to three hours of physical activity a day…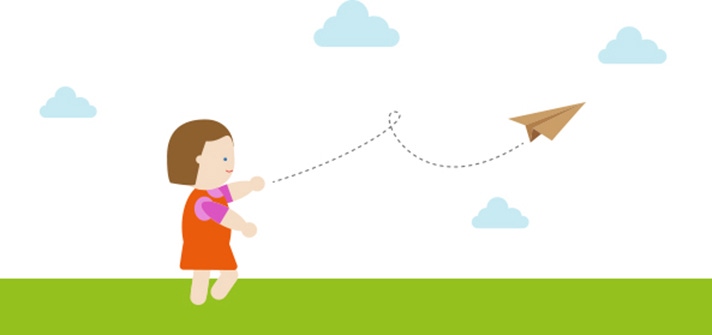 What? Fold and fly
How? Make a paper airplane together and encourage them to run and catch it. If you can, go outside to a wide-open space so there's plenty of room to race around. Let them try throwing it too (they might need some help with the trajectory!) then run after it yourself to show them how much fun the game is. 
Why? Running around involves moving their entire body and will help build muscle strength in their legs. It's also sure to keep them guessing where the wind will carry the airplane!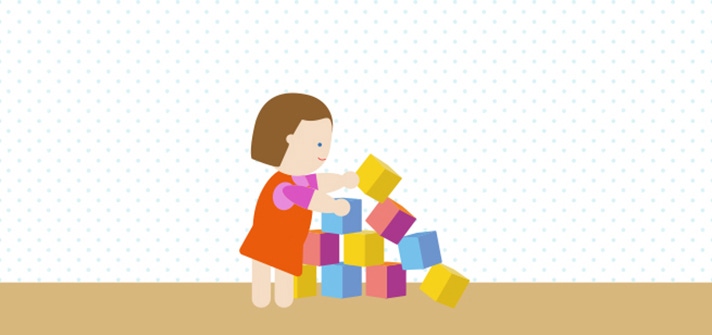 What? Build them up
How? Encourage your little one to make a tower from soft blocks then knock them down again.
Why? This game will help the development of their hand and finger skills. It's a good example of unstructured play, where they can create whatever they like and learn how things work. It will also occupy their hands and challenge their brain.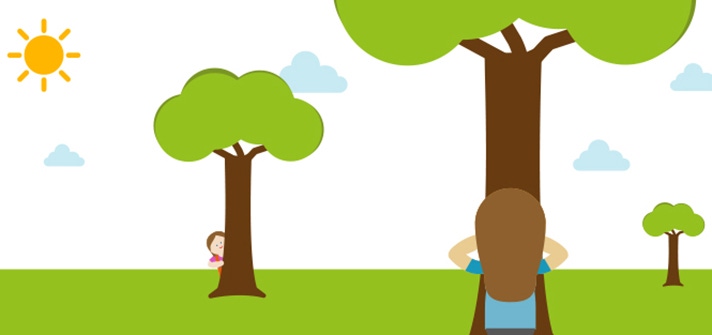 What? Hide and seek
How? Find a place to hide yourself while your toddler seeks and then switch so they're doing the hiding. Alternatively, you can hide a toy for them to find. Take turns and show them how much you are enjoying playing the game and being active together.
Why? By 18 to 24 months, your toddler is likely to understand the concept of "hide and seek." If you hide a toy under a cover, for instance, they will know to look for it. If weather allows for playing outside, hide and seek is an opportunity for them to develop gross motor skills as they run around. This game is structured play, where children follow directions and are guided by an adult and is a good way of including this type of play in the daily activity goal of one to three hours. It's also a chance to teach them new words for things they discover or notice outside.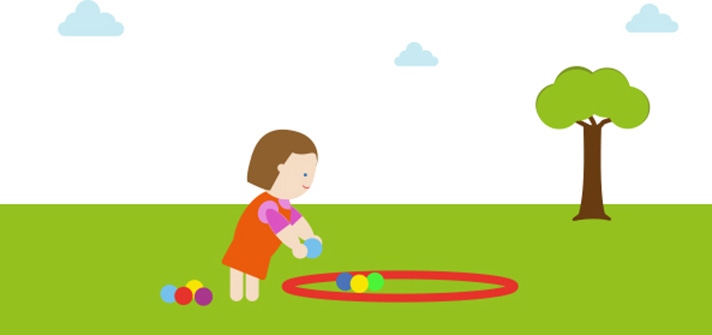 What? Inner circle
How? Place a hoop on the ground, or arrange a skipping rope into a circle, and scatter some balls of various sizes around. Encourage your toddler to gather up the balls and put them inside the circle. When they've had some practice, join in and see who can go faster!
Why? Challenges your toddler to move quickly and flex their whole body as they bend to pick up and put down the balls, and race back and forth. This helps them practice both gross and fine motor skills.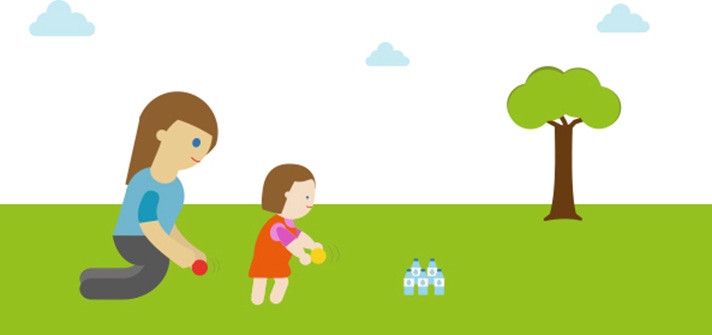 What? It's a strike!
How? Set up empty water bottles as bowling pins and show your toddler how to roll a ball to knock them over. Praise them if they knock any bottles down to reinforce the aim of the game.
Why? Puts their gross motor skills as well as hand-eye coordination into action. Remember that you are your child's role model so they're more likely to join in and play if they see you having fun too. They'll also learn "cause and effect", how to take turns, and celebrate sporting victories! 
Playground safety checklist
Always keep your toddler in sight and supervise closely at the playground.
Look for age-appropriate play equipment.
Choose swings with support so they can't fall off. 
Ideally, choose a playground with soft ground cover in case of any tumbles.
Be careful of metal play equipment, which can get hot during the summer months.
Remind your toddler to climb up the steps to the slide rather than try to climb the slide itself.
Sources
https://pathways.org/growth-development/toddler/games/ (Accessed December 5 2018) 

Okely AD, Ghersi D, Hesketh KD, et al. A collaborative approach to adopting/adapting guidelines – The Australian 24-hour movement guidelines for the early years (birth to 5 years): an integration of physical activity, sedentary behavior, and sleep. BMC Public Health 2017; 17(Supple 5):869. doi: 10.1186/s12889-017-4867-6. 

Shelov SP & Altmann TR (Eds.). (2009). American Academy of Pediatrics. The complete and authoritative guide Caring for your baby and young child birth to age 5 (5th ed.). USA: Bantam Books.

Society of Health and Physical Educators (SHAPE). Active start: A statement of physical activity guidelines for children from birth to age 5. 2nd ed. Reston, VA: SHAPE America; 2009. Available at: https://www.shapeamerica.org/standards/guidelines/activestart.aspx (Accessed December 5 2018)

Tremblay MS, Chaput J, Adamo KB, et al. Canadian 24-hour Movement Guidelines for the Early Years (0-4 years): An integration of physical activity, sedentary behaviour, and sleep. BMC Public Health 2017; 17(Suppl 5):874 doi 10.1186/s12889-017-4859-6. 

https://pathways.org/growth-development/toddler/milestones/ (Accessed December 5 2018)

https://pathways.org/topics-of-development/play/(Accessed December 5 2018) 

https://pathways.org/watch/parents-guide-structured-vs-unstructured-pla…(Accessed December 5 2018)

https://pathways.org/baby-milestones-calendar/(Accessed December 5 2018) 
Join
Get full access to expert-backed nutrition support, high-value coupons on our trusted brands and much more!
Free Ready-for-Baby Savings Pack.

Around 35 weeks of pregnancy expect to receive our Baby Pack filled with high-value coupons and useful information you and your baby will love!

Special Member Savings

Receive personalized coupons and savings on trusted products in your email inbox - and home mailbox - as your baby grows.

Helpful resources

Expert advice, articles, recipes, tips and tools for all the special, hard and at times hectic days of parenting.

Nutritional guidance for growth

Specialized nutritional guidance and science-based expertise for every stage of the parenting journey - from preconception to toddlerhood.
*When registration is during pregnancy. If your baby's already been born, expect to see your kit within a month
Still haven't found what you are looking for?
Try our new smart question engine.