For your labour:
Gather some essentials to make yourself more comfortable during labour and recovery and to help you prepare for your homecoming. It is best to pack a few weeks before your due date, in case you go into labour early. Here are some things you should include:
Your health insurance card and proof of any additional benefits you may have
Multiple copies of your birth plan. Check out our tips for creating your Birth Plan
Labour kit containing items recommended in your childbirth classes
Warm socks (to wear in the delivery room) 
Nightgown for recovery (one that opens in front if you're breastfeeding), slippers and housecoat
2 or more bras (breastfeeding or good support bra)
5 or more pairs of underwear
Highly absorbent sanitary napkins
Loose-fitting clothing for the trip home (something that would fit when you were 5-6 months pregnant)
Toothbrush, toothpaste and floss 
Deodorant 
Body lotion or massage oil (unscented)
Camera and/or a video camera plus extra batteries
Snacks and drinks or coins for vending machines
Cosmetics. You will be immortalized on film, so pack your comb and brush and your makeup kit. You might get a chance to use them on the big day, and you'll probably want to spruce up before visitors arrive
For your baby:
Baby outfits: 2-3 sleepers/t-shirts (pre-washed) 
A receiving blanket 
Diapers & wipes 
A going home outfit, including warm outer clothes, hat and a blanket for cool weather 
Cans or bottles of infant formula if you intend to bottle-feed so your baby can start with the brand of your choice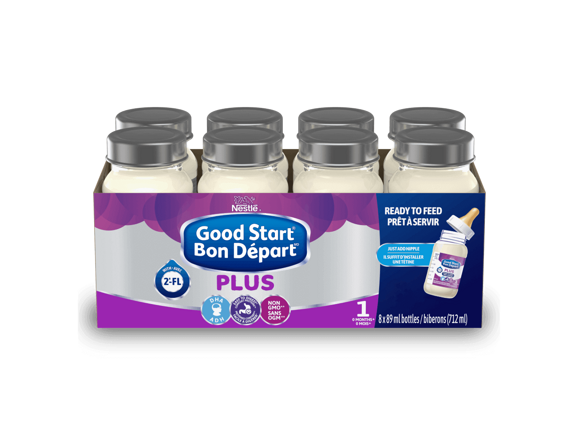 0 months+
Product
GOOD START Plus 1 Ready-to-Feed Baby Formula Bottles
Our closest liquid formula to breast milk with the combination of Comfort Proteins™, DHA, and 2'-FL. Just shake well, remove the cap, twist on a sterilized standard size nipple and ring, and it's ready to go
Available in 8x89ml.
For infants from 0 months and up.
Reminders for your labour coach:
You can't remember everything, and that's where your labour coach comes in. He or she should be able to pick up where you leave off, and help you out with things you just can't do on your own. Here are a few suggestions:
Pack a few snacks or a sandwich to sustain you during labour without having to leave your partner's bedside. Also, bring money for parking, the vending machines and payphone while at the hospital (check with hospital staff to find out where cell phone use is permitted).
Bring a book to read, board or card games to play with, or music player and speakers for your partner to listen to while she's in labour to help her relax.
Make sure you have fresh batteries. 
Bring the phone numbers of family members to call once the baby arrives. 
Install the car seat for the trip home (best if this is done a few weeks prior to delivery). Read more about the importance of properly installing your car seat here.
Don't forget the flowers!
Join
Get full access to expert-backed nutrition support, high-value coupons on our trusted brands and much more!
Free Ready-for-Baby Savings Pack.

Around 35 weeks of pregnancy expect to receive our Baby Pack filled with high-value coupons and useful information you and your baby will love!

Special Member Savings

Receive personalized coupons and savings on trusted products in your email inbox - and home mailbox - as your baby grows.

Helpful resources

Expert advice, articles, recipes, tips and tools for all the special, hard and at times hectic days of parenting.

Nutritional guidance for growth

Specialized nutritional guidance and science-based expertise for every stage of the parenting journey - from preconception to toddlerhood.
*When registration is during pregnancy. If your baby's already been born, expect to see your kit within a month
Still haven't found what you are looking for?
Try our new smart question engine.