Product Highlights
Our closest formula to breast milk​
GOOD START is PEDIATRICIANS' #1 CHOICE for Easiest Formula on Baby's Tummy!*​
Tummy friendly and easy to digest†, only GOOD START formulas contain COMFORT PROTEINS, which are 100% whey proteins that are partially broken down for small tummies ​
With PROBIOTIC B. lactis, a good bacteria like the ones found in breast milk1, that helps support a healthy gut flora ​
EXPERT RECOMMENDED LEVELS of DHA2, an Omega 3 fat, which contributes to your baby's normal physical brain and eye development​
NOW WITH 2'-FL.  2'-FL is a prebiotic shown to help support digestive health and the developing immune system.3-5
Non-GMOǂ​
| Average Composition | Powder per 100 g | Standard Dilution per 100 ml |
| --- | --- | --- |
| Calories | 512 cal | 67 cal |
| Energy | 2140 kJ | 280 kJ |
| Protein | 11 g | 1.5g |
| Fat | 26 g | 3.4 g |
| Carbohydrate | 57 g | 7.5 g |
| 2'-Fucosyllactose | 0.19 g | 0.025 g |
| Ash | 2.6 g | 0.34 g |
| Linoleic acid | 4.6 g | 0.6 g |
| Linolenic acid | 0.43 g | 0.056 g |
| Arachidonic acid (ARA) | 83 mg | 11 mg |
| Docosahexaenoic acid (DHA) | 83 mg | 11 mg |
| Vitamin A | 1536 IU | 200 IU |
| Vitamin D | 307 IU | 40 IU |
| Vitamin E | 10 IU | 1.3 IU |
| Vitamin K | 0.046 mg | 0.006 mg |
| Vitamin C | 51 mg | 6.7 mg |
| Thiamine | 0.41 mg | 0.054 mg |
| Riboflavin | 0.72 mg | 0.094 mg |
| Vitamin B6 | 0.38 mg | 0.05 mg |
| Vitamin B12 | 0.0015 mg | 0.0002 mg |
| Niacin | 5.4 mg | 0.7 mg |
| Folacin | 0.077 mg | 0.01 mg |
| Pantothenic Acid | 2.3 mg | 0.3 mg |
| Biotin | 0.015 mg | 0.002 mg |
| Choline | 122 mg | 16 mg |
| Taurine | 34 mg | 4.4 mg |
| Inositol | 31 mg | 4 mg |
| L-Carnitine | 6.6 mg | 0.9 mg |
| Calcium | 336 mg | 44 mg |
| Phosphorus | 184 mg | 24 mg |
| Magnesium | 36 mg | 4.7 mg |
| Iron | 7.7 mg | 1 mg |
| Zinc | 4.1 mg | 0.54 mg |
| Manganese | 0.077 mg | 0.01 mg |
| Selenium | 0.015 mg | 0.002 mg |
| Copper | 0.41 mg | 0.054 mg |
| Iodine | 0.06 mg | 0.08 mg |
| Sodium | 138 mg | 18 mg |
| Potassium | 553 mg | 72 mg |
| Chloride | 333 mg | 44 mg |
| Nucleotides | 20 mg | 2.6 mg |
Partially hydrolyzed reduced minerals whey protein concentrate, Lactose, Corn maltodextrin, Palm olein, Soybean oil, Coconut oil, High oleic safflower oil or high oleic sunflower oil, 2'-Fucosyllactose, Mortierella alpina oil†, Schizochytrium oil††, Taurine, L-carnitine, Nucleotides (cytidine 5'-monophosphate, disodium uridine 5'-monophosphate, adenosine 5'-monophosphate, disodium guanosine 5'-monophosphate), Bifidobacterium lactis, Trypsin, Soy lecithin, Ascorbyl palmitate, Mixed tocopherols, Vitamins (vitamin A acetate, vitamin D3, dl-alpha-tocopheryl acetate, phylloquinone, sodium ascorbate, thiamine mononitrate, riboflavin, niacinamide, calcium pantothenate, pyridoxine hydrochloride, biotin, folic acid, vitamin B12, choline bitartrate, inositol), Minerals (calcium chloride, tricalcium phosphate, dipotassium phosphate, magnesium chloride, potassium citrate, sodium citrate, ferrous sulphate, zinc sulphate, manganese sulphate, copper sulphate, potassium iodide, sodium selenate).​
† A source of arachidonic acid (ARA)​
†† A source of docosahexaenoic acid (DHA)​
​
Contains: Milk, Soy.​
Product information is subject to change. Please refer to the product label or packaging for the most current nutrition and allergen information.
| 359g GOOD START PLUS 1 Powder | 3.4 L |
| --- | --- |
| 1.02kg GOOD START PLUS 1 Powder | 7.8 L |
Preparation & Storage Instructions 
Your baby's health depends on carefully following the directions for preparation and use.
Wash hands thoroughly. Boil clean bottles, nipples, rings, caps, and utensils in water for 5 minutes.​

Separately, bring water to a rolling boil for at least 2 minutes. Cool to lukewarm.​

Pour desired amount of lukewarm water into sterilized bottle. Add powder, cap bottle and immediately shake well.
See Preparation Chart for proper powder to water ratio, and Preparation Instructions on pack for detailed instructions.
Preparation Chart
| Sterilized Water  | GOOD START PLUS 1 Powder | Sterilized Water      | GOOD START PLUS 1 Powder |
| --- | --- | --- | --- |
| 60 ml      |   1 scoop | 180 ml  | 3 scoops |
| 120 ml  |   2 scoops | 240 ml        | 4 scoops |
Storage
Store in a cool dry place. After opening can, keep tightly covered with lid and use within 1 month. Avoid extreme temperatures.
*More pediatricians trust GOOD START as the most well-tolerated routine infant formula than any other brand. June 2022. Data on file.  ​
†Like all infant formulas ​
ǂIngredients not genetically engineered.
1 Guiemonde M, et al. Neonatology. 2007;92(1):64-66.
2 ADA/DC. J Am Diet Assoc. 2007;107:1599-1611.  ​
3 Storm H, et al. Glob Pediatr Health. 2019;6:1-10. ​
4 Bode L, et al. Glycobiology. 2012;22(2):1147-1162.  ​
5 Goehring K, et al. PLoS One. 2016;146(12):2559-2566.​
Other formats/flavours available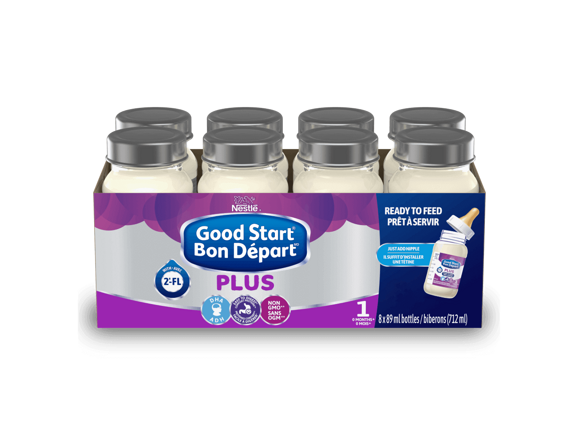 0 months+
Product
GOOD START Plus 1 Ready-to-Feed Baby Formula Bottles
Our closest liquid formula to breast milk with the combination of Comfort Proteins™, DHA, and 2'-FL. Just shake well, remove the cap, twist on a sterilized standard size nipple and ring, and it's ready to go
Available in 8x89ml.
For infants from 0 months and up.
Still haven't found what you are looking for?
Try our new smart question engine.